Press Release
GBL receives financial assistance for scaling up 2G ethanol technology from MoP&NG
Oct 13, 2023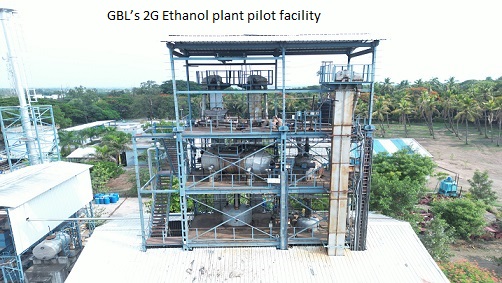 GBL receives financial assistance of 15 Crore for scaling up its 2G ethanol technology from Centre for High Technology (CHT) - Ministry of Petroleum & Natural Gas Government of India under PM – JIVAN yojana.
The funds will be utilized to scale up GBL's 2G ethanol technology at Sameerwadi Karnataka.
GBL has developed innovative technology for conversion of sugarcane bagasse to value added fuels and bio chemicals in-house. GBL is currently operating 1TPD biomass processing plant at Sameerwadi Karnataka.
Godavari Biorefineries honoured with two SISSTA Awards
Aug 29, 2022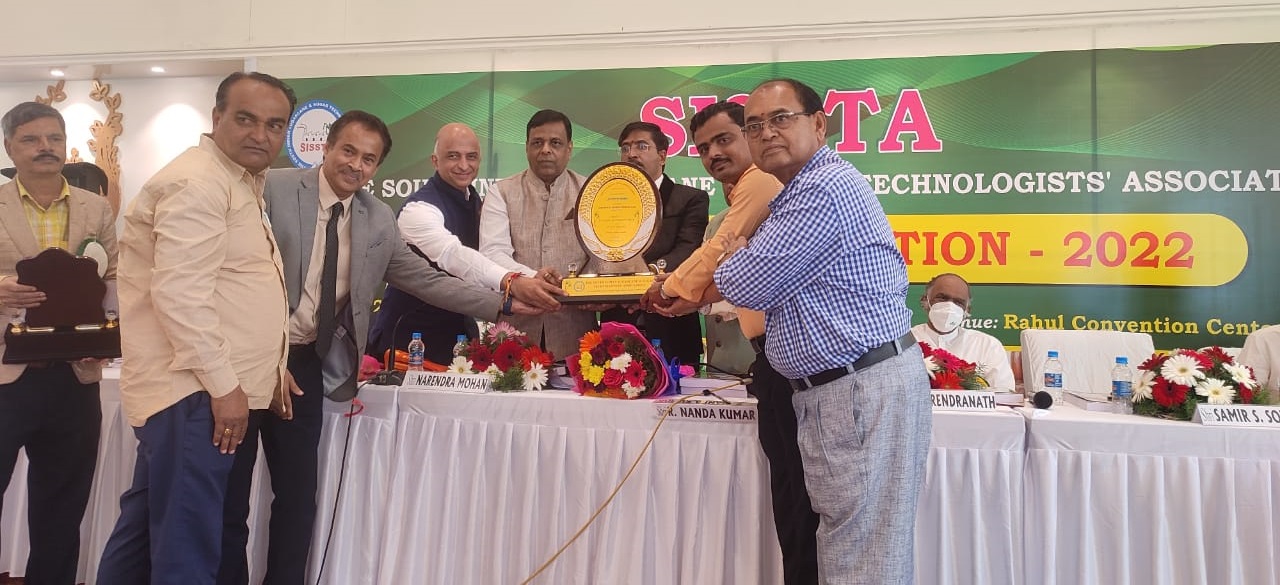 Mumbai, 29 August 2022: Godavari Biorefineries Ltd (GBL), a pioneer in manufacturing ethanol-based chemicals in India and one of the largest producers of ethanol in India, has been awarded with two prestigious accolades at the 51st Annual Convention hosted by SISSTA.
We believe that based on the extensive and qualitative work done, the first award that was bestowed upon Godavari Biorefineries was the Platinum Award for "Best Sugarcane Development (2021-2022)" in the Karnataka Region. Secondly, Godavari Biorefineries' paper titled, 'Performance Enhancement of Biological Treatment Plan' authored by Mr. Suryaprakash, GM (Co-gen), was selected for the 'Best Paper Award in Process' and was honoured with a Shri Mydur Anand Gold Medal for the same.
The awards were presented during SISSTA's 51st Annual Convention which was held on 26th August, 2022 at Rahul Convention Centre, Tirupati, Andhra Pradesh. More than 600 individuals, including members, mill owners, technocrats, research-institutions, government officials and other dignitaries of the sugar industry participated in the event. The convention comprised the latest research papers of scientific, technological and managerial importance with respect to sugar and its allied industries.
Speaking about winning the two prestigious awards, Mr. Samir Somaiya, Chairman and Managing Director, Godavari Biorefineries Limited, said, "We are truly honoured to receive these awards, especially from such a reputable association like SISSTA. This is a testament to the hard work we have been putting in. We were here last year, as Godavari Biorefineries won the Silver Award for Best Distillery in Karnataka Region at SISSTA's 50th Annual Convention, and I am certain we will be here next year as well."
Godavari Biorefineries Ltd. is one of the largest producers of ethanol and a pioneer in manufacturing ethanol-based chemicals in India. The company has a diversified product portfolio that comprises bio-based chemicals, sugar, rectified spirits, ethanol, other grades of alcohol and power.
___________________________________________________________________________________________________________________________________________________
About Godavari Biorefineries
Godavari Biorefineries Limited, established in 1956, is the flagship company of the diversified Somaiya group, which has interests in inter alia, the education, agricultural research, renewable energy and healthcare industries. We utilise sugarcane as a feedstock to manufacture a wide range of products, including sugar, ethanol, bio-based chemicals and power and were among the first few companies in India to utilise sugarcane juice and syrup for the production of ethanol. We currently have two manufacturing facilities, one manufacturing facility located in the Bagalkot district in Karnataka ("Sameerwadi Manufacturing Facility") and another manufacturing facility located in the Ahmednagar district in Maharashtra ("Sakarwadi Manufacturing Facility").
The chemicals manufactured by us comprise of ethanol-based chemicals such as ethyl acetate, bio-ethyl acetate, MPO, 1,3 butylene glycol, crotonaldehyde, acetaldehyde, acetic acid, bio- acetic acid and paraldehyde ("Bio-based Chemicals"). The Bio-based Chemicals manufactured by us find application in various industries, including the agrochemical, cosmetics, flavour and fragrance, food, fuel, paints and coatings and pharmaceutical industries, while the ethanol manufactured are sold to oil marketing companies and also find application in the beverages, pharmaceutical and chemical industries.
To learn more about our product portfolio please visit www.godavaribiorefineries.com.
Disclaimer
"Godavari Biorefineries Limited is proposing, subject to receipt of requisite approvals, market conditions and other considerations, to make an initial public offer of its equity shares and has filed a draft red herring prospectus ("DRHP") with the Securities and Exchange Board of India. The DRHP is available on the website of the SEBI at www.sebi.gov.in as well as on the websites of the book running lead managers, Equirus Capital Private Limited at www.equirus.com, and JM Financial Limited at www.jmfl.com, and the websites of the stock exchange(s) at www.nseindia.com and www.bseindia.com, respectively. Investors should note that investment in equity shares involves a high degree of risk and for details relating to such risk, see "Risk Factors" of the RHP, when available. Potential investors should not rely on the DRHP for any investment decision.
The Equity Shares have not been and will not be registered under the U.S. Securities Act of 1933, as amended (the "U.S. Securities Act") or any other applicable law of the United States and, unless so registered, may not be offered or sold within the United States except pursuant to an exemption from, or in a transaction not subject to, the registration requirements of the U.S. Securities Act and applicable U.S. state securities laws. Accordingly, the Equity Shares are being offered and sold outside the United States in offshore transactions as defined in and in compliance with Regulation S and the applicable laws of the jurisdiction where those offers and sales are made. There will be no public offering in the United States."
For more details, please contact:
Pushpendra Dhansoia | 90290 37173 | dhansoia.pushpendra@somaiya.com
Godavari Biorefineries Ltd is now a part of a Bonsucro multi-site certificate
Oct 23, 2021
Our ethanol and biochemical plant in Sameerwadi, Karnataka and Sakarwadi, Maharashtra are now a part of a Bonsucro multi-site certificate which comes under the Bonsucro MB Chain of Custody Standard. Bonsucro's Chain of Custody Standard ensures the traceability of sustainability claims along the supply chain from the farm to the end user. This scope of certification covers the following current and near-future products — ethanol, ethyl acetate, acetic acid, butyl acetate, butylene glycol, butanol. Our plants would be the first in India to receive the same.
About Bonsucro
Bonsucro is the global sustainability platform for sugarcane, one of the world's most important crops. Its purpose is to collectively accelerate the sustainable production and uses of sugarcane – for farmers, millers, buyers, and end users. It convenes its members and other partners to address critical challenges in the sugarcane sector, and drive performance and impact through its system of sustainability standards for sugarcane.
Bonsucro works across all sugarcane products and derivatives – sugar, ethanol, molasses, and bagasse. It also works across both traditional and newer market sectors, from sugar and alcohol to biofuels and bioplastics.
To learn more about Bonsucro, visit its website: www.bonsucro
Godavari Biorefineries Limited to set up India's largest capacity sugarcane syrup based ethanol plant
Apr 27, 2021
Mumbai, April 27, 2021: Godavari Biorefineries Limited (GBL), one of the pioneers in the manufacture of alcohol and alcohol-based chemicals in India will be expanding its current distillery capacity to become India's largest syrup-based ethanol plant. Godavari has appointed Praj Industries for its expansion plans. As a part of this project, Praj will expand Godavari's existing ethanol manufacturing capacity from 400 KPLD to 600 KLPD, using sugarcane syrup.
While the world is moving towards sustainable practices to reduce carbon footprints, governments all over the world are promoting policies/programs to encourage companies/industries to incorporate green practices. The Government of India has also made several strategic interventions by way of expanding the ethanol blending programme, enabling the conversion of sugarcane juice/syrup to ethanol, other progressive policies, and conducive financial mechanisms. This helps India meet its energy security for transportation fuel by using biofuels, further helping fight climate change. It also helps bring more stability to farmer incomes by giving optionality to companies using sugarcane to make either sugar or ethanol. This capacity expansion planned by GBL is in line with the government's biofuel policy to increase the ethanol manufacturing quantity in India using various sugary feed stocks.
The expansion capacity at GBL Plant will continue to be a zero liquid discharge facility.
Speaking on the occasion, Mr. Samir Somaiya, Chairman & Managing Director of Godavari Biorefineries Limited said, "Responding to government's vision of Atmanirbhar Bharat, we decided to divert sugar cane syrup to distillery to manufacture Ethanol during the current season and expanded from 320 to 400 KLPD to continue our journey . We are happy to associate with Praj as our technology partner for our expansion plan. Praj will design, engineer, supply, install and increase our capacity from 400 KLPD to 600 KLPD ethanol production using sugar syrup as raw material. We look forward to building on our mutually rewarding relationship with Praj with our new ventures."
Godavari Biorefineries Ltd., one of the first companies to associate with the government's expanded program and supplied a large quantity of ethanol to the "Ethanol Blending Program" last year. Last year, the company delivered 45 million liters of ethanol to the program. Godavari Biorefineries pioneered the use of sugarcane syrup for making ethanol by diverting almost 30% of sugarcane directly following the Brazilian model. This year, the company is contracting to deliver more than 75 million litres for the ethanol blending programme. In the future, the company plans to produce more than 100 million litres in a single location.
-----ends-----
Godavari Biorefineries Ltd:
Godavari Biorefineries Ltd. a member of the Somaiya Group, was established in 1939 and is one of India's leading and sustainable company producing sugar, other foods, biofuels, chemicals, power, compost, waxes, and related products, using sugarcane and other biomass as the primary feedstock. Our manufacturing plants are located at Sameerwadi, Bagalkot district in Karnataka and Sakarwadi, Ahmednagar district in Maharashtra.
Using molasses, a by-product of sugar production, as a feedstock, we are among the larger producers of ethanol in India. Now we are expanding our ethanol capacity by using Sugar Syrup. A pioneer in the use of ethanol as a feedstock of the production of chemicals, we make various chemicals, such as acetaldehyde, ethyl acetate, crotonaldehyde, MPO, paraldehyde. Our products are used in thousands of everyday products including adhesives, solvents, inks, flavours, plastics, and several others.
We have a multi-storeyed state-of-the- art research facility to focus on research and innovation to address the significant and growing demand for chemical products made from renewable feedstock. To learn more about our product portfolio please visit www.somaiya.com
For more information, please contact:
Pushpendra Dhansoia, +91 9029037173, dhansoia.pushpendra@somaiya.com
Godavari Biorefineries Ltd. Expands Its Ethanol Production
Dec 16, 2020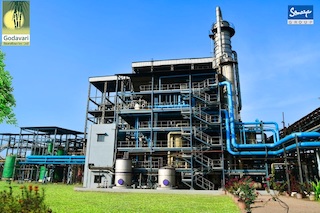 Godavari Biorefineries Ltd., one of the pioneers in the manufacture of alcohol-based chemicals in India has increased its ethanol manufacturing capacity from 320,000 liters per day to 400,000 litres ethyl alcohol per day. The company is targeting to divert 40% of its sugar in cane to make ethanol using sugarcane juice and B Heavy molasses. With this development, the company will have a capacity of over 100 million liters of ethyl alcohol in a single location.
Sugar, a low carbon source of energy, is not just an environmentally friendly source to produce ethanol but also drives the rural economy. The livelihood of a significant number of small farmers in rural India depends on the farming of sugarcane, production of Ethanol using sugar will support the growth of such farmers.
Samir Somaiya, Chairman and Managing Director, Godavari Biorefineries Limited, said, "Since the inception of the company, we have worked towards building an environmentally friendly eco-system in our company. With the increase in capacity of production of Ethanol, we are not only growing our business but also helping the entire ecosystem flourish."
While the world is moving towards sustainable practices to reduce carbon footprints, governments all over the world are promoting policies/programs to encourage companies/industries to incorporate green practices. One of such programs introduced by the Indian government is the Ethanol Blending Program, which sought to promote the use of alternative and environment-friendly fuels and to reduce import dependency for energy requirements. The Government expanded the size of this programme by allowing the use of sugarcane juice/syrup and more recently other feedstocks.
Godavari biorefineries Ltd., one of the first companies to associate with the expanded program and supplied a large quantity of ethanol to the Ethanol Blending Program last year. Earlier this year, the company delivered 38 million liters of ethanol to the program. Godavari Biorefineries pioneered the use of sugarcane syrup for making ethanol by diverting almost 30% of sugarcane directly following the Brazilian model. This year, the company is contracting to deliver more than 70 million litres for the ethanol blending programme. In the future, the company plans to produce more than 100 million litres in a single location.
About Godavari Biorefineries Limited
The Godavari Sugar Mills Ltd., incorporated in 1939, demerged to Godavari Biorefineries in 2009. Godavari Biorefineries Ltd. promoted by Late Shri. Karamshibhai Jethabhai Somaiya (Padmabhushan) and his son, Dr. Shantilal Karamshibhai Somaiya, was incorporated in 1939 and has been contributing to the industrial development of India for more than six decades.The Company with three Sugar mills is fully integrated and is among the top ten Sugar complexes out of around 500 sugar manufacturers in India. The Company is one of the largest producers of Alcohol & a pioneer in manufacture of Alcohol based Chemicals in India.
Transition to Specialty chemicals
Chemical Engineering World | Jul 01, 2020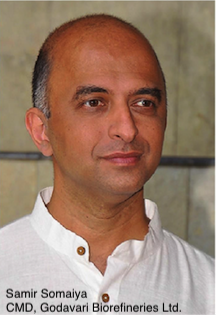 How is the market for green / renewable chemicals evolving globally and in India?
We see a big increase in the need for renewable/green chemicals. This trend is more visible globally. Large international companies are making public commitments to us renewable chemicals, biodegradable packaging, carbon neutral processes, and making a more sensitive approach to people, climate and the planet going forward. In this, there is a huge opportunity for companies in the renewable space to go forward.
To what extent renewable chemicals can replace the conventional chemicals and petrochemicals in India and what are the major concerns that will have to be addressed at various levels in India?
Renewable chemicals can be used in various ways and can be 'Identical' except that these are made from renewable sources. For example, one can make acetic acid from renewable sources that is made otherwise from petroleum feedstock. 'Drop-ins', and can completely substitute conventional materials; although they may be chemically different, with no loss of functionality. Green chemicals can also be completely different from material derived from conventional feedstock and have different properties but still may have the same end use. Some of the renewable chemicals may not have a fossil substitute.
In each of these cases, the substitution will depend upon many factors. One of the very first point is if the price of the renewable chemical can compete with that derived from fossil sources. Second, whether the end use segment is willing to pay a price premium for a renewable derived feedstock. We find that this is often the case in the skin care sector. In such cases, responsibly sourced, traceable, renewable and/or biodegradable chemicals can command a price premium from the end customer. Third point is whether the material properties can help command a better price. Finally, in some markets, the Governments are creating policies that promote the use of renewable raw materials. Since your question particularly concerned India. In my opinion, bio-ethanol is a 'Drop-in' and there is a favorable Government policy to help encourage that blend to help our energy security and a lower carbon future. For chemicals, the market needs to mature to give us more value. But I think that consumer preferences are changing, and there are niche markets that reward use of such chemicals, and it is a matter of time before some end use segments grow the use of these feedstocks.
How friendly are the policies in our country to support the growth of renewable chemicals and protect the domestic industry from imports?
In India, there are no policies for renewable chemicals. The Government has created policies for renewable fuel (ethanol blending), and also Bio-CNG. However, this support is not extended to the chemical sector. In the EU and the USA, there are significant policies encouraging the investment in research, pilot plant, and commercialization of renewable processes and technologies. Further, there are policies in place to influence the attractiveness of these products. The US Bio-Preferred Program is one such example. The Carbon markets are also another way to help the economic viability of such initiatives.
Tell us about the Godavari bio-refinery model and how has the organization continued to stay financially viable? How have you addressed the cost challenge across the customers in India though these lead to higher ROIs across for the user industries?
Godavari Biorefineries is using four strategies for the future. The Government has encouraged the making of ethanol from sugarcane juice or syrup for blending in petrol for our transportation needs. Godavari was one of the first companies to aggressively adapt to this environment and supplied a large quantity of ethanol for the purpose this past year. This provides us much needed optionality to swing between ethanol and sugar based on the demand supply gap in sugar or ethanol. Currently, we are increasing our ethanol capacity to 400,000 lpd. With this we will have a capacity of over 100 million litres of ethyl alcohol in a single location. In the chemical sector, we are making a transition to specialty chemicals. In the past few years, we have successfully introduced new chemicals that are in the fragrance or skin care field. We are also establishing more long term relationships with global companies that share our vision of a sustainable future, so that we can jointly develop products with their involvement. This 'joint' development approach helps us know the target product cost and quality of the customer. Achieving the same helps them achieve their ROIs. Bio-refining means products from agriculture and we work closely with the farmer to help enhance yields and productivity, in order for the farmer to be financially better off, and the farm and soil to be healthy. To promote well grown and well processed foods, we have established a brand 'Jivana' to promote pure and high quality food products that we need on a daily basis.
When & why did your organization stop producing acetic acid and took the decision to restart the business on demand in October 2018 which received USDA certification in next few months?
We stopped making Acetic Acid over a decade ago. In this case, we made the same chemical from renewable sources (ethanol) that is also made from fossil resources. With the reduction in import duties, the entire Indian alcohol based chemical industry that made acetic acid from ethanol found itself unable to compete with petroleum sources. Along with all the others, we too shut down. We reinvested and resumed the manufacture of acetic acid only on a very small scale. There are a few customers the world over desire to buy this product because their end market segment is ready to pay a premium for the same. This is a small market and the demand fluctuates. But we are hopeful that the market will grow.
Which is the best suited bio refinery model for India to realize the sustainability goal? How can we build world class bio refineries in our country?
I hope we are working on demonstrating that. It is a model that works closely with farmers. In India, farmers have small land holdings. Any engagement has to help them be financially sustainable and for the farm to be productive in the short and longer term. We are working with our farmers to reduce their water footprint, and encourage the use of intercrops to reduce fertilizer use and give them a dual income. Similarly, biorefining is the process of converting the feedstock into value added products. These find applications in foods, fuels, electricity, chemicals, pharmaceuticals, fragrance chemistry, bio materials, agrochemicals and much more. There has to be a thinking towards a circular and cascading biorefinery that continuously strives to find and add value. A few years ago, we installed an incinerator boiler to recover energy from our waste. Now, we are implementing a process to extract potash from the ash from the incinerator. This potash will then be sold to our farmers. Currently, India imports almost all its potash needs. Through this example, we are showing how we can cascade and add value, and the process is circular. As a country, we need research to keep imagining the future. Research and practice go hand in hand. In Europe, I have seen large pilot plants where lab work can be taken further. We need to have such facilities to further bio-refining in India.
How supportive is the National Biofuels Policy towards setting up 2nd generation bio-refineries and what are the challenges that still need to be addressed?
The National Biofuel policy helps the making of biofuels. India is an agrarian economy and has an abundance of biomass. However, the collection of the biomass will always be a challenge. So the availability of this biomass at the processing site is an entry barrier. At Godavari Biorefineries, we have invested much in energy efficiency and engineering to make available surplus bagasse on site for use as a next generation feedstock. Secondly, ethanol from biomass is what is called 2-G (2nd generation). These are possible, and we are seeing demonstration facilities around the world. However, these are expensive and are made possible with Government support and subsidy. The Government of India is also supporting the creation of such Greenfield facilities to make 2G ethanol. But as in every other location, these facilities are very expensive. The Government makes them possible with 'Viability Gap Funding'. I believe that India should also experiment with our own model. We need to encourage 'bolt on' solutions of adding equipment and technology to existing infrastructure. For example, our sugar mills already have biomass on site and downstream ethanol facilities. A 'bolt on' approach will only add what is necessary to complete the 2G addition, reducing funding needs. The current biofuel policy provides for viability gap funding only for Greenfield facilities. It needs to be modified for 'bolt on' facilities as well. In summary, I think India has a great agriculture base. There is lots of biomass and we have the education and research system to dream. The market is large and people are imagining a better and more sustainable future for their children. Biorefining of biomass is the way for a more sustainable way of life.
Pages