Godavari Biorefineries honoured with two SISSTA Awards
Aug 29, 2022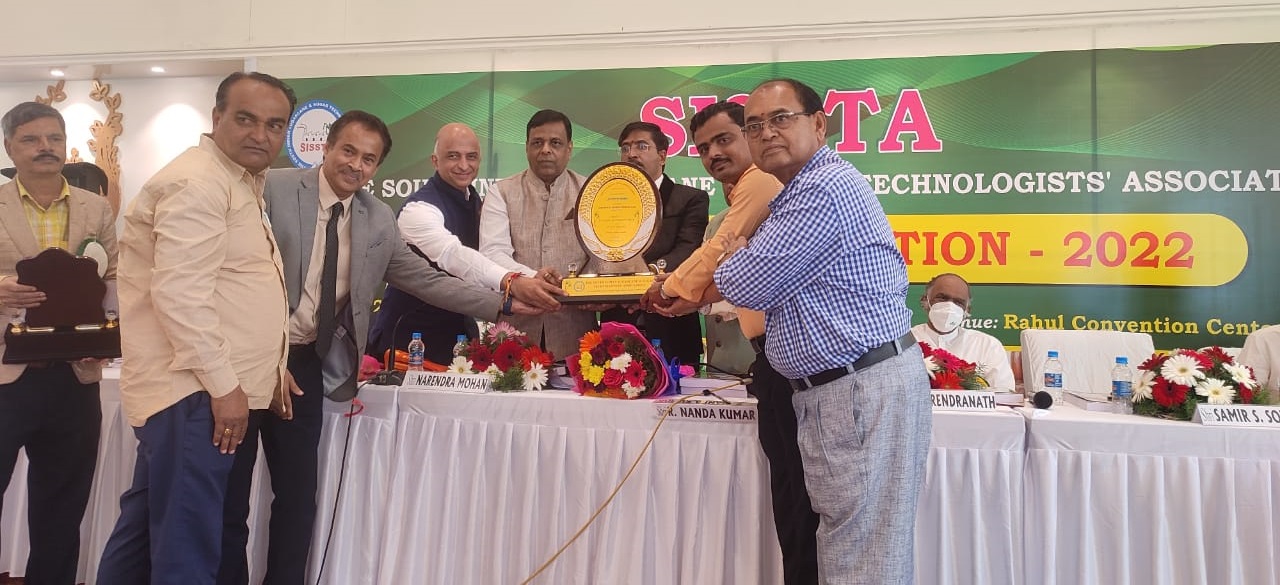 Mumbai, 29 August 2022: Godavari Biorefineries Ltd (GBL), a pioneer in manufacturing ethanol-based chemicals in India and one of the largest producers of ethanol in India, has been awarded with two prestigious accolades at the 51st Annual Convention hosted by SISSTA.
We believe that based on the extensive and qualitative work done, the first award that was bestowed upon Godavari Biorefineries was the Platinum Award for "Best Sugarcane Development (2021-2022)" in the Karnataka Region. Secondly, Godavari Biorefineries' paper titled, 'Performance Enhancement of Biological Treatment Plan' authored by Mr. Suryaprakash, GM (Co-gen), was selected for the 'Best Paper Award in Process' and was honoured with a Shri Mydur Anand Gold Medal for the same.
The awards were presented during SISSTA's 51st Annual Convention which was held on 26th August, 2022 at Rahul Convention Centre, Tirupati, Andhra Pradesh. More than 600 individuals, including members, mill owners, technocrats, research-institutions, government officials and other dignitaries of the sugar industry participated in the event. The convention comprised the latest research papers of scientific, technological and managerial importance with respect to sugar and its allied industries.
Speaking about winning the two prestigious awards, Mr. Samir Somaiya, Chairman and Managing Director, Godavari Biorefineries Limited, said, "We are truly honoured to receive these awards, especially from such a reputable association like SISSTA. This is a testament to the hard work we have been putting in. We were here last year, as Godavari Biorefineries won the Silver Award for Best Distillery in Karnataka Region at SISSTA's 50th Annual Convention, and I am certain we will be here next year as well."
Godavari Biorefineries Ltd. is one of the largest producers of ethanol and a pioneer in manufacturing ethanol-based chemicals in India. The company has a diversified product portfolio that comprises bio-based chemicals, sugar, rectified spirits, ethanol, other grades of alcohol and power.
___________________________________________________________________________________________________________________________________________________
About Godavari Biorefineries
Godavari Biorefineries Limited, established in 1956, is the flagship company of the diversified Somaiya group, which has interests in inter alia, the education, agricultural research, renewable energy and healthcare industries. We utilise sugarcane as a feedstock to manufacture a wide range of products, including sugar, ethanol, bio-based chemicals and power and were among the first few companies in India to utilise sugarcane juice and syrup for the production of ethanol. We currently have two manufacturing facilities, one manufacturing facility located in the Bagalkot district in Karnataka ("Sameerwadi Manufacturing Facility") and another manufacturing facility located in the Ahmednagar district in Maharashtra ("Sakarwadi Manufacturing Facility").
The chemicals manufactured by us comprise of ethanol-based chemicals such as ethyl acetate, bio-ethyl acetate, MPO, 1,3 butylene glycol, crotonaldehyde, acetaldehyde, acetic acid, bio- acetic acid and paraldehyde ("Bio-based Chemicals"). The Bio-based Chemicals manufactured by us find application in various industries, including the agrochemical, cosmetics, flavour and fragrance, food, fuel, paints and coatings and pharmaceutical industries, while the ethanol manufactured are sold to oil marketing companies and also find application in the beverages, pharmaceutical and chemical industries.
To learn more about our product portfolio please visit www.godavaribiorefineries.com.
Disclaimer
"Godavari Biorefineries Limited is proposing, subject to receipt of requisite approvals, market conditions and other considerations, to make an initial public offer of its equity shares and has filed a draft red herring prospectus ("DRHP") with the Securities and Exchange Board of India. The DRHP is available on the website of the SEBI at www.sebi.gov.in as well as on the websites of the book running lead managers, Equirus Capital Private Limited at www.equirus.com, and JM Financial Limited at www.jmfl.com, and the websites of the stock exchange(s) at www.nseindia.com and www.bseindia.com, respectively. Investors should note that investment in equity shares involves a high degree of risk and for details relating to such risk, see "Risk Factors" of the RHP, when available. Potential investors should not rely on the DRHP for any investment decision.
The Equity Shares have not been and will not be registered under the U.S. Securities Act of 1933, as amended (the "U.S. Securities Act") or any other applicable law of the United States and, unless so registered, may not be offered or sold within the United States except pursuant to an exemption from, or in a transaction not subject to, the registration requirements of the U.S. Securities Act and applicable U.S. state securities laws. Accordingly, the Equity Shares are being offered and sold outside the United States in offshore transactions as defined in and in compliance with Regulation S and the applicable laws of the jurisdiction where those offers and sales are made. There will be no public offering in the United States."
For more details, please contact:
Pushpendra Dhansoia | 90290 37173 | dhansoia.pushpendra@somaiya.com