Branded Food Products
Jivana Sugar Image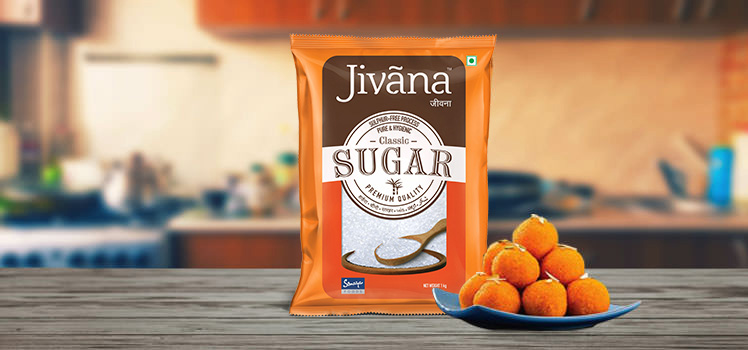 Jivana Classic Sugar is made from superior quality sugarcane. Our company has been in operation for over 75 years. We employ eco-friendly farming practices, certified production processes, and stringent quality control measures to ensure purity, hygiene, and consistency in our sugar. The optimum-sized Jivana sugar crystals melt easily, giving the desired sweetness in each spoon and ensuring there's no wastage.
Make an Enquiry
Buy now
Jivana Classic Sugar Benefits
Pure Sugar

It is the pure unadulterated sweetness of superior quality sugarcane that reaches you as Jivana Classic Sugar.

Hygienic & Untouched by hand

We use innovative and international standard automated production processes that give you hygienic sugar that is untouched by hand.

Safe sulphur free production processes

Our production processes are certified by Food And Safety Standards Authority Of India (FSSAI) making it completely safe for consumption.
Consistent quality

Certified and sustainable practices on field and in the refinery ensure that we maintain consistency in the quality of our sugar.

Desired sweetness through optimum size sugar crystals

We understand that having the right amount of sweetness is important. Our medium-sized sugar crystals which are extracted from the first and best juice of each stalk of cane, guarantee that you get the right amount of sweetness each time.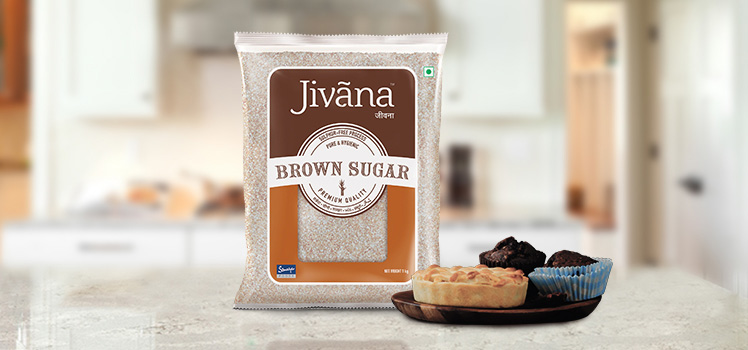 Jivana Brown Sugar is a grainy golden brown sweetener made from premium cane and has a higher content of natural minerals in comparison to refined sugar. Its mild caramel flavour goes well with hot & cold beverages, desserts and cakes. Our manufacturing unit in Karnataka applies innovative processes to ensure we retain the inherent goodness of cane in this natural sugar.


Make an Enquiry
Jivana Brown Sugar Benefits
Goodness Retained

Jivana Brown Sugar is rich in minerals that are obtained from premium quality sugarcane
Certified & Pure

FSSAI certified, innovative & automated processes ensure we provide hygienic, pure and consistently good brown sugar each time.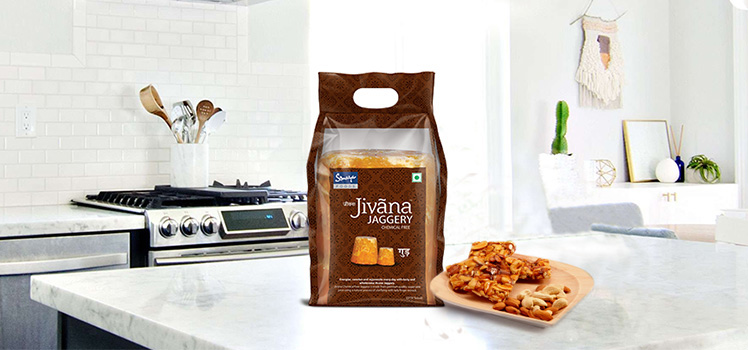 Jivana Jaggery is a delicious & wholesome sweetener made by clarifying thick sugarcane juice using lady finger extracts. This natural process enables Jivana Jaggery to be Chemical Free.
Make an Enquiry
Buy now
Jivana Jaggery is a tasty wholesome sweetener, rich in antioxidants. It can be used in multiple ways. It can be consumed in a warm drink to energize your mornings, can be added to recipes for meals, and this natural sweetener also works well to make sweet dishes that are normally made with other sweeteners.
Jivana Jaggery Benefits:
Pure & Tasty

Chemical Free
Rich in Antioxidants

Natural Energizer
Jivana Sugarcane Concentrate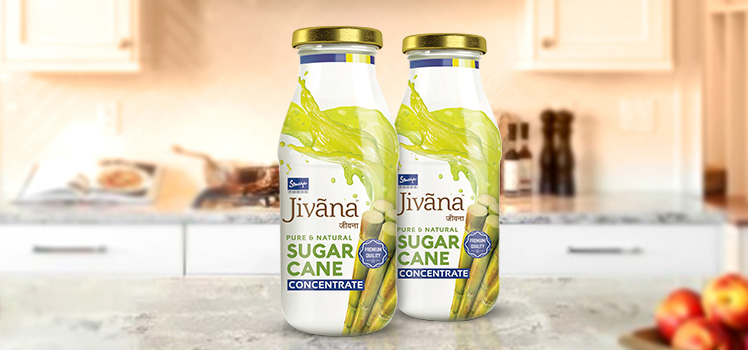 Jivana Pure & Natural Sugarcane concentrate is a unique and revolutionary product. This 100% Preservative-Free, Pure Extract of Sugarcane is made from premium quality cane. Available in a 200ml glass bottle, it is versatile and can be used in many ways. It is a wholesome and healthy substitute for commonly used sweeteners, a taste enhancer which works well in most food recipes, makes delicious drinks & smoothies and is a great ingredient for all kind of desserts.
Make an Enquiry
Buy now
Jivana Sugarcane Concentrate Benefits
Natural Source of Glucose

Energizes & Rehydrates body
Rich in Calcium, Potassium, Iron & Natural Antioxidants

Reduces cholesterol, improves digestion, strengthens organs and boosts immune system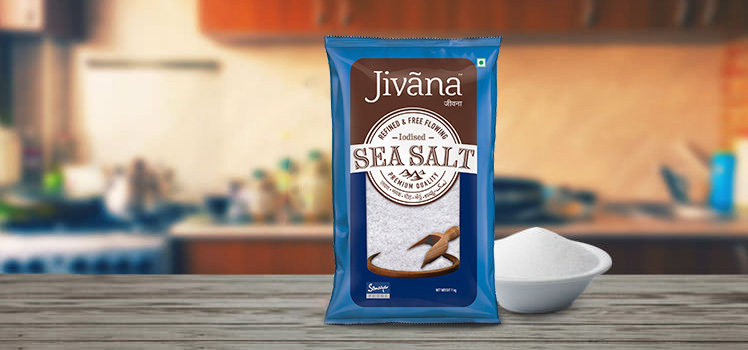 Jivana Iodised Sea Salt comes from Gujarat. Our salt is harvested using Sea Water in salt pans by applying a Natural Solar Evaporation Method that is safe and helps retain the required goodness in the salt. Jivana Sea Salt is Iodised and rich in macro minerals like magnesium and calcium that are vital for health.


Make an Enquiry
Buy now
With all its retained goodness, Jivana Refined Iodised Salt aids in nerve and muscle functions, maintaining blood sugar levels, controlling deficiency disorders in adults, and boosting mental development in children. Presence of calcium and magnesium is beneficial for skin and bones.
Jivana Refined Iodised Salt Benefits
International standard automated processes

Complete automation from production through packaging gives you hygienic and pure salt.

Consistent quality

Certified standardised practices at the salt pans and in the refinery ensures consistency in the quality.
Retained goodness in salt

The right amount of fortification, supported by safe natural processes ensures that the daily required iodine intake is met.

Additional benefits

Our salt has macro minerals like magnesium and calcium that are beneficial to the body.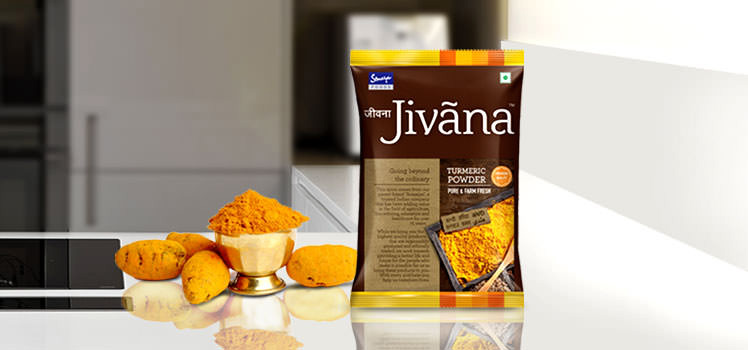 Jivana Pure & Farm Fresh Turmeric powder comes to you from our manufacturing unit in Sameerwadi, Karnataka. The turmeric is grown using sustainable and eco-friendly agricultural practices, and in rotation with sugarcane farming, enabling farmers to get better yield and retain the fertility of their land. The turmeric fingers are cleaned, sorted and graded, after which they are polished and pulverized using automated and certified processes. Care through farming, production and packaging ensures pure & fresh turmeric powder reaches your home.
Make an Enquiry
Buy now
Jivana Turmeric Benefits
Jivana Turmeric has Curcumin, a bio-active compound with many benefits.

It has anti-inflammatory and strong anti-oxidant properties.
Turmeric also improves brain function, lowers risk of heart disease, delays ageing and fights against carcinogens.