Godavari Biorefineries to expand ethanol capacity
Indian Chemical News | Jun 07, 2021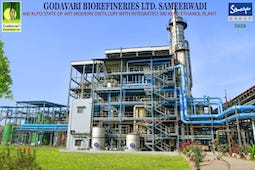 Godavari Biorefineries is planning to expand its ethanol capacity to 600 klpd in 2022 as our aim is to deliver more than 100 million litres to this programme, says Samir Somaiya, Chairman, Godavari Biorefineries Limited.
The company has already expanded its capacity for making ethanol from 200 to 400 klpd in the last 2 years and Godavari Biorefineries is doubly excited to expand its production capacity further to meet the growing demand and opportunity commented Somaiya.
Speaking on the government's resolve to meet the target of 20 percent ethanol blending in petrol by 2025, Somaiya said, "The Indian sugarcane processing industry is an asset to the country. The advancing of the 20% ethanol blending mandate to 2025 by the Government of India is in response to the increase in ethanol capacities across the Indian sugar industry. The sugarcane surplus in India will find its way in meeting a part of India's energy needs, provide a cleaner burning fuel, mitigate climate change, and provide stability to sugarcane farmer incomes across the country."
"The industry will have the optionality in choosing between ethanol and sugar and will have stable cash flows and a remarkable opportunity for growth," commented Somaiya.
Commenting on the E-100 pilot project launched in Pune by Prime Minister Narendra Modi, Somaiya said, "E-100 has been used in conjunction with E20 in Brazil in flexible fuel cars for many years. Bringing this idea to India will allow for distributed production and distribution. India will be able to meet local transportation energy needs locally. The government has allowed for ethanol to be made from multiple feedstocks including molasses, sugarcane syrup, grain and also 2g. E-100 will encourage carmakers to adapt their vehicles to take this fuel and it will make India more self-reliant, combat climate change, strengthen and help grow the industry and ensure stable livelihoods to the farmer."
Last week, the government has resolved to meet the target of 20 percent ethanol blending in petrol by 2025 which has been now preponed by 5 years, says Prime Minister Narendra Modi addressing the World Environment Day event jointly organized by the Ministry of Petroleum & Natural Gas and the Ministry of Environment, Forest and Climate Change through video conference.
The Prime Minister also launched the ambitious E-100 pilot project in Pune for the production and distribution of ethanol across the country.
Source: Indian Chemical News